How our exclusive FLYBYFLY-themed kids photoshoot works?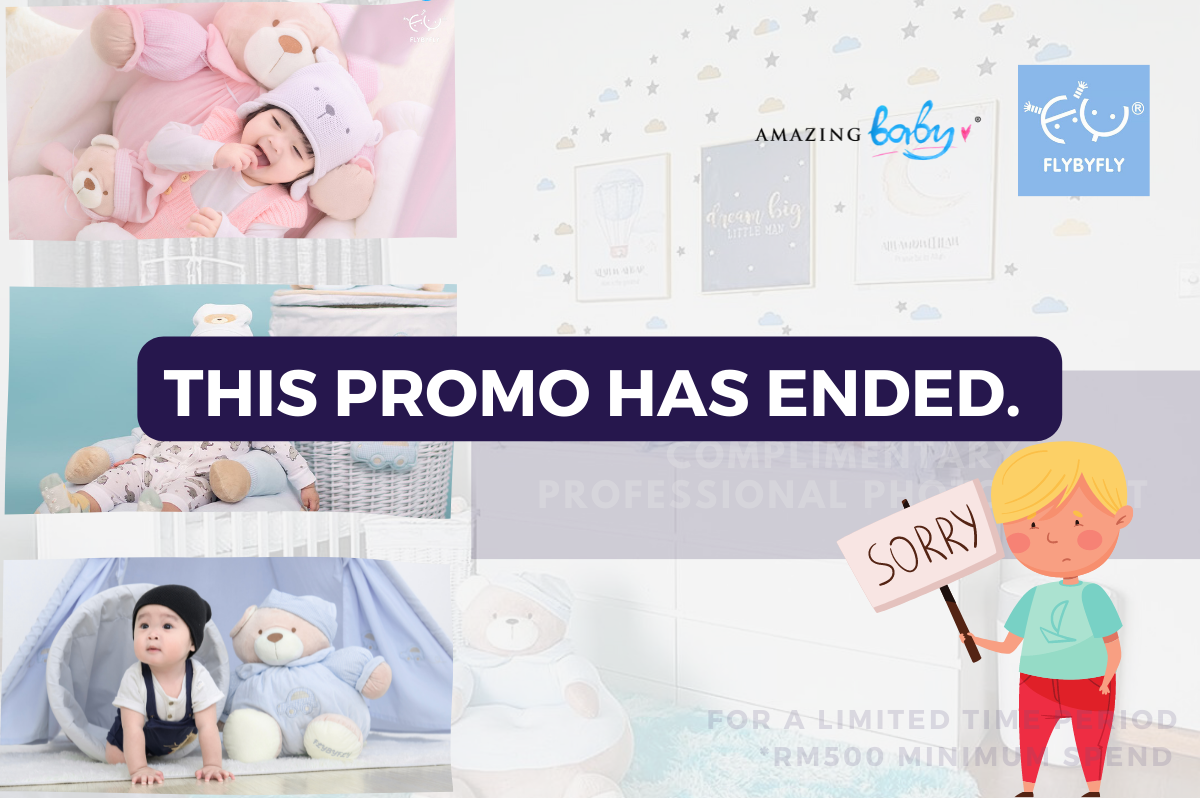 Be rewarded when you spend a minimum of RM500 in a single receipt with FLYBYFLY Malaysia. Each customer will only be entitled to receive one (1) photoshoot throughout this campaign per calendar year and may only receive two (2) softcopy images, *one (1) hardcopy image and *one (1) limited edition photo frame.
This offer will be valid for a period of 1 year from the date of purchase. For instance, if customer were to place order on 19 May 2022, this offer would be valid till 18 May 2023.
*Terms and conditions apply
Reward Terms and Conditions:
Offer is valid until 19 May 2022.
The lower age limit for kids photoshoot is 3 months old. There is no upper limit however.
This offer is limited to one time redemption per transaction.
This offer will be valid for a period of 1 year from the date of purchase.
This offer cannot be exchanged for cash in part or full.
This offer must not be combined with any other or same promotional offers.
Valid for purchase above RM500 in a single receipt; inclusive of shipping rates if applicable.
Valid for sales transactions occurred in website (www.flybyfly.com.my), Instagram, Facebook or Whatsapp.
FLYBYFLY Malaysia reserves the final rights on all matters concerning this promotion.
How to redeem this offer?
1. Request a FLYBYFLY Studio Photoshoot
We have matched you with a professional photographer at Amazing Baby Studio. Simply present your customer profile at the point of your purchase with us, and you can schedule your appointment with Amazing Baby Studio. Once verification is done, you and your little ones can just get ready for the visit to our #amazingbabyflybyfly studio.
Address: Block E-1-13A Plaza Arcadia No 3, Jalan Intisari, Desa Park City, 52200 Kuala Lumpur, Malaysia
Phone: +6016 714 0669
Email: amazingbaby@amazinggroup.asia
2. Meet your Professional Photographer
We will spend about an hour photographing your little ones. Your new photos will be a ready a 1-2 weeks later, after we review your best shots. You'll get 2 Softcopy images in high resolution where you can immediately post in your social media or share with your friends and family.
3. Receive an Amazing Present from FLYBYFLY Malaysia
You will receive a *Limited Edition Photo Frame + *1 Hardcopy image after completing the below 2 steps:
*Step 1 - Tag your favourite photo with @amazingbaby_photography and @flybyfly_malaysia and share/post your photo along with hashtag #amazingbabyflybyfly in Instagram or Facebook – If you don't tag us we won't able to see your lovely studio photos.
*Step 2- Tag 3 people in your photo and ask them to like our Facebook or Instagram page @amazingbaby_photography @flybyfly_malaysia - We want you to spread the love to your friends and family! To collect your FREE gift, simply reach out to FLYBYFLY Malaysia via Facebook or Instagram. You can opt for either self-collection at our shop or courier services. For the latter option, a flat shipping rate of RM10.00 will be shouldered by the customers in order to facilitate this shipping process.
'Childhood is a short season, enjoy them while they are little'
As opposed to running a traditional loyalty program that rewards customers with points, we want you and your little ones to have a memorable life experience that you would be able to share with them one day. And, there's no better way to make and preserve family memories than by planning a family photoshoot. That's right: you can even get the whole family into a good picture, no selfie stick required!
None of these would have been possible without your support, and therefore we really thank you from the bottom of our hearts for being our valued customers.